Robert Pattinson arriving on the set of 'Life' in Toronto.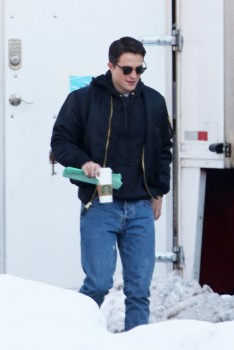 THanks, RPLife
Here are two new/old pics of Robert Pattinson and Kristen Stewart in Paris.
New pics of Robert Pattinson on the set of 'Life' in Toronto on February 18th. I live in Toronto so I feel his pain regarding the current blistering cold right now.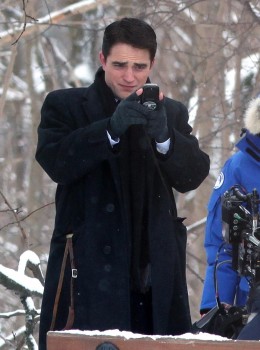 P.S. My goodness this hair color/style suits him. 
They grow up so fast. Here are some fan pics of Mackenzie Foy (aka Renesmee Cullen) at Disneyland. Such an adorable young lady.
Photographer Nathaniel Goldberg posted these two gorgeous new outtakes of Robert Pattinson on his Instagram from a 2012 shoot they did!
Via: RPLife
Taylor Lautner attended the 4th Annual Cartoon Network's Hall of Game Awards on February 15th! Also, it was his birthday on the 11th, so here's a happy belated to this talented, handsome and charismatic man! Love, love.
Here are some pics of Ashley Greene's campaign for Oakley Women. She's looking fresh and pretty!
Just click to enlarge and read Kristen Stewart's interview with Stylist Magazine UK!
Thanks to Bex and KStewartFans
Kristen Stewart pulls a cute funny face in this new portrait from Sundance! 
Kellan Lutz for Abbot + Main's Spring 2014 campaign!