Ashley Greene at the 'Wish I Was Here' dinner hosted by Grey Goose Blue Door! Such a natural beauty!
Source: DiarioTwilight
Ashley Greene looks pretty and polished at the 'Wish I Was Here' premiere at the 2014 Sundance Film Festival!
Thanks, TheVampireClub!
Ashley Greene looks gorgeous on the January 2014 edition of Living Well magazine. 
Ashley Greene had a fun-filled New Year's Eve with her friends and boyfriend!
Pics thanks to TVC
Ashley Greene out and about in Los Angeles with boyfriend,  Paul Khoury. Aw, lovebirds!
Thanks, TVC!
Ashley Greene and Paul Khoury attend the Washington Wizards vs New York Knicks game at Madison Square Garden on December 16, 2013 in New York City.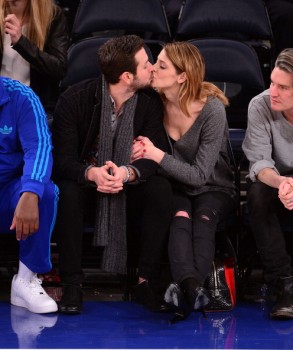 Thanks TVC!
Ashley Greene is pretty in pink on the set of 'Burying The Ex' on December 4th!
Thanks, DiarioTwilight!
Here is a cute new pic of Ashley Greene posing with a fan at The Hunger Games: Catching Fire premiere!
Thanks, @ZamirRamirez8 and TVC!
Thanks to TMZ for this new information regarding a lawsuit filed against Ashley Greene:
"Ashley Greene is being sued over the fire she started in her West Hollywood apartment that killed her dog and injured the man who helped rescue fleeing residents.
Adrian Mayorga just filed a lawsuit against the "Twilight" star — obtained by TMZ — in which he claims he was hurt while running through the smoke-filled hallways, while yelling and screaming for residents to flee. 
The doorman claims he suffered exhaustion, dehydration and smoke inhalation and ended up in the hospital.
Four residents in neighboring units have also sued, claiming the fire wreaked havoc on them with soot and water damage.
The fire started when a candle in Ashley's unit set the sofa ablaze, killing her Fox Terrier, Marlo.  A second dog survived.
Video of Ashley Greene at the Hunger Games: Catching Fire premiere!