This looks like so much fun! I need this right now: to frolic in a wide, empty field with my friends! Enjoy the pics of Kellan Lutz and Ashley Greene at the Abbot + Main event at Coachella.

Kellan Lutz at the New York Yankees Foundation event in New York on April 8th!

Thanks, DiarioTwilight!
Kellan Lutz and his friend Brittany Snow were spotted in West Hollywood enjoying a dinner on Thursday night.
Source: DailyMail
As many of you know, Kellan Lutz is a huge advocate for animal rights and nature. Below is an image he had taken to show his support for Greenpeace.
Message from Valeria of Greenpeace: Here is an exclusive pic of him wearing our T-shirt and doing a Tiger Impression. The idea is that people will make a tiger impression picture and post it on twitter with #TigerRoar. It will be then visible on our website greenpeace.org/tigerroar
So show your support and raise awareness by taking a pic doing your tiger impression and post it to Twitter with the hash tag #TigerRoar! Go, go go! 
Source: KellanLutzOnline
The Expendables 3 Character Posters have just been released! Kellan Lutz is looking oh-so-fine.
Via KLO
Such a friendly guy! In the videos below Kellan Lutz is friendly with the paps, even trying out their camera! 


Via DT!
Here are new pics of Kellan Lutz at the Abbot + Main Spring collection launch, also celebrating his birthday (which was March 15th—happy belated birthday, Kellan!) with a gorgeous cake that featured an image of Kellan himself on it! Now that's a yummy cake! ♥
You can see more pics over at KLO here!
Here are some lovely pics of Kellan Lutz on a flyboard in Thailand during a trip to celebrate the opening of the new Nikki Beach beach club & restaurant on Saturday (March 8) in Phuket, Thailand. I want to try this so bad!
Kellan Lutz and Olga Kurylenko joined forces with the Red Carpet Green Dress initiative to wear a sustainable tux and sustainable gown for the Oscars red carpet.  They look lovely!
Kellan Lutz looked handsome at the 86th Annual Academy Awards!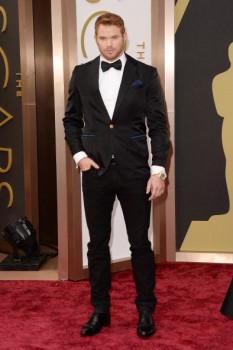 Thanks, DiarioTwilight