Kellan Lutz looking handsome in a blue toque at the Learn To Ride event with AOL!
Thanks, DiarioTwilight!
Kellan Lutz at Extra!
Thanks, TVC!
Here are some great pics of Kellan Lutz enjoying himself at the Empire State Building!
Thanks to KellanLutzOnline and Melanie!
Kellan Lutz talks The Legend of Hercules at the New York City special screening!
Via KLO
Kellan Lutz looked sharp at the New York premiere of The Legend of Hercules!
Thanks to TVC!
Here's another new interview with Kellan Lutz for The Legend of Hercules!
Via KLO
Check out this new interview that Celebuzz did with Kellan Lutz about his role as Hercules in "The Legend of Hercules."
Get to know Kellan Lutz a little better. Check out the video below:
Via KLO
Kellan Lutz for the Us Weekly Photo Booth while at the Jingle Ball recently! He looks lonely under there.
Someone should join him . . . 
Thanks, KLO!
Enjoy the pics of  Kellan Lutz arriving at LAX on December 18th.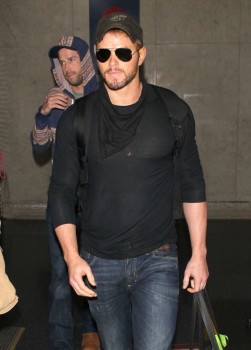 Thanks you, TVC!