Here's a great new picture of Kristen Stewart playing the guitar!
New pics of Kristen Stewart out and about in Europe. Click images to enlarge.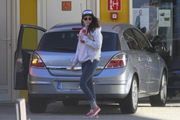 Click through here to see all the pics of Kristen Stewart filming scenes for 'Sils Maria' at a new location earlier this week!
Kristen Stewart poses with a fan on September 30th. BATMAN!
Here is some video footage of Kristen Stewart behind the scenes of 'Sils Maria'

Via DT
Kristen Stewart plays ball on the set of Sils Maria to pass the time!
Click thumbnails to enlarge
Here are some new pics of Kristen Stewart on the Sils Maria set filming a bus scene on the weekend.
Click to enlarge