I'm not going in chronological order here, but enjoy these new pics of Kristen Stewart on the set of her movie, 'Still Alice' from March 17th. This deep red shade is her color! Looks so good on her, don'tchyathink?
Kristen Stewart on set of her newest project, 'Still Alice.
 I'm totally not posting news in chronological order today—apologies. I'm just catching up after a long week and kind of grabbing what I see first. Here's the shoot that Kristen Stewart did with Tara Swennen for The Hollywood Reporter Top Stylists special.
And the BTS video:
Thanks to KStewartFans  and Via TVC!
Here are some pics of Kristen Stewart on set of "Still Alice" in New York City on Tuesday (March 11).
Thanks to KStewartFans
Here is a new behind the scenes picture of Kristen Stewart with Tara Swennen from her THR shoot.
Here are two new/old pics of Robert Pattinson and Kristen Stewart in Paris.
Just click to enlarge and read Kristen Stewart's interview with Stylist Magazine UK!
Thanks to Bex and KStewartFans
Kristen Stewart pulls a cute funny face in this new portrait from Sundance! 
New pics of Kristen Stewart from February 12th!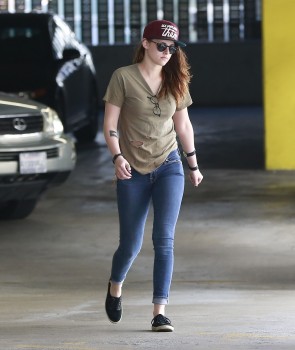 •click to enlarge pictures*
Here is a mini interview Kristen Stewart did with the Style Supplement!
Click for the full size