Kellan Lutz (aka Emmett Cullen) and Maggie Grace (aka Irina) were photographed at the Vanity Fair Campaign in Hollywood (Fiat Young Hollywood Party).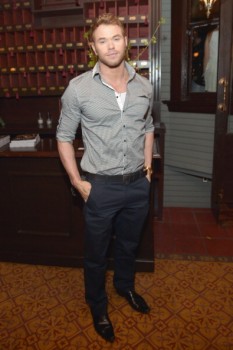 Source: TVC
Nikki Reed, Julia Jones and Maggie Grace attended the 3rd Annual Coach Evening To Benefit Children's Defense Fund!
The Twilight Saga's Ashley Greene and Maggie Grace attended Kaufmanfranco during Fall 2013 Mercedes-Benz Fashion Week at The Stage at Lincoln Center on February 11, 2013 in New York City.
Thanks DiarioTwilight
Here is the official information regarding the Denali Coven casting for the Breaking Dawn movie:
THE TWILIGHT SAGA: BREAKING DAWN — The Denali Coven Casting Update:
Summit Entertainment announced today the following have been cast in THE TWILIGHT SAGA: BREAKING DAWN for roles in The Denali Coven as outlined below:
The Denali Coven is comprised of
Christian Camargo (THE HURT LOCKER, Dexter) as Eleazar;
Casey LaBow (Moonlight) as Kate;
Mia Maestro (Alias, POSEIDON) as Carmen;
MyAnna Buring (DOOMSDAY) as Tanya;
as well as previously announced Maggie Grace (Lost, TAKEN) as Irina.
The Denali Coven is the only other "vegetarian" vampire coven in the world, considered cousins to the Cullens. The next chapter of THE TWILIGHT SAGA will be released as two separate films with the first of the two slated to be released in theatres on November 18, 2011 and the second coming to theatres on November 16, 2012.
Academy Award® winner Bill Condon will direct both films starring Kristen Stewart, Robert Pattinson and Taylor Lautner. The project, based on the fourth novel in author Stephenie Meyer's Twilight series, is currently being written by Melissa Rosenberg with Wyck Godfrey, Karen Rosenfelt and Stephenie Meyer producing.
THE TWILIGHT SAGA: BREAKING DAWN illuminates the secrets and mysteries of this spellbinding romantic epic that has entranced millions.
To see the faces of all these actors click here—>

♥[Thank you Twilightish][Pic]
Gossip Cop has confirmed that Maggie Grace will indeed be playing Irina in the Breaking Dawn movie! Here's what they reported:
"Maggie Grace has been cast as vampire Irina in Breaking Dawn, Gossip Cop has confirmed.
Grace is perhaps best known for her stint on "Lost" and role as Liam Neeson's imperiled daughter in Taken.
Her "Twilight Saga" character is a member of the Denali coven who blames the Cullen clan for the death of her lover.
The first of the two Breaking Dawn installments will be released in November 2011."
Thank you to Sienna from our Facebook page for letting me know!