Enjoy the teaser trailer for The Rover starring Robert Pattinson!
Robert Pattinson with fans in Morocco on January 26th!
Check out the new interview that Robert Pattinson did with 'WSJ Magazine' where he chats about moisturizing, his career, and more!
On where he sees his career going this year: "This year, I'm trying to see what my niche is."
On additions to his grooming regime:"'I was a brush-your-teeth-and-have-a-shower kind of guy. I can't tell if it's because of my association with Dior or because I'm older, but I've started moisturizing…It's been a quite profound change in my life.'"
On his partnership with Dior Homme:"I like trying to do ambitious things. That's what got me really enthusiastic about the campaign, that [Dior] wasn't shying away from anything."
For the rest of this interview visit WSJ.com.
Thanks to JustJared!
Robert Pattinson in a new gorgeous wintery photo for Dior!
Robert Pattinson and friends out and about in London!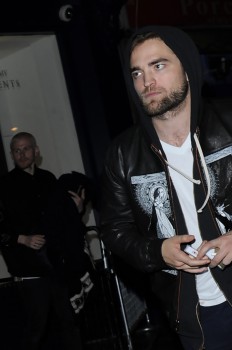 Thanks, RPLife | Via DiarioTwilight!
Here is a gorgeous new pic of Robert Pattinson on the set of 'Remember Me' with producer Nick Osborne! Just click for the full size.

Thanks, elanthemag and brandheroin!
A photo of little Robert Pattinson was included in the 'Him & Me' book. More info below!






"Him & Me": Amazon
Jack Whitehall went to the same school as Rob. Michael Whitehall is Jacks dad, he is a producer/talent agent. In the book it mentions about Rob in the school plays – Peter Pan, Bugsy Malone, Joseph.
Via Gossip_Dance!
New Dior Rob photos from Nan Goldin's '1000 Lives' Coffret!
pattinsonlife | via TVC
Well here's an old pic of Robert Pattinson that we haven't seen before! Enjoy!
Robert Pattinson with a friend looking all handsome . . . with that chiselled jaw and those smooth lips and . . . all right, I'll stop! *dabs forehead with handkerchief*