Taylor Lautner and his tracers co-star and rumoured girlfriend, Marie Avgeropoulos, were seen departing L'Ermitage Hotel early Friday night (November 22) in Beverly Hills, Calif.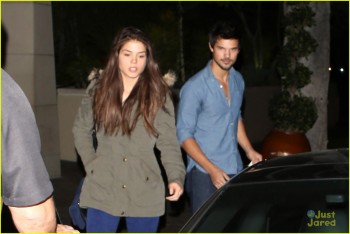 As always, click images to enlarge!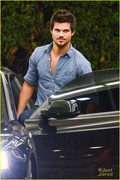 Thanks to Just Jared!
Here's a lovely new pic of Taylor Lautner with two fans, which was uploaded by daniellemariaxo!
Thanks, TL-life!
A lucky fan poses with Taylor Lautner on November 6th. 
Click the image below to be taken to a new behind the scenes clip from 'Twilight Forever' of Jacob and Bella!
Via GossipDance
Click the thumbnails below to see two new HQ outtakes of Taylor Lautner from his BENCH photoshoot!
Taylor Lautner at a BENCH event!
Taylor Lautner takes a walk around NYC with Marie Avgeropoulos!
Check out these new pics of Taylor Lautner on the 'Tracers' set! Dat ass!
Via TVC