Robert Pattinson and friends out and about in London!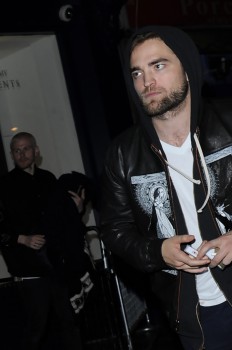 Thanks, RPLife | Via DiarioTwilight!
Read below for info on Dakota Fanning and Tom Sturridge's new project, 'Effie.'
From Deadline:
Dakota Fanning will star in the title role of Effie, the Emma Thompson-scripted period biopic about the unfortunate marriage between Euphemia Gray and the famed critic John Ruskin in 1850s London. Richard Laxton (An Englishman in New York) is directing. Though the teenager was gorgeous, Effie's husband never consummated the marriage over five years because Ruskin was for some reason disgusted by her body. After suffering through a loveless marriage and browbeating by her in-laws, Effie fell in love with Ruskin's protégé, painter John Everett Millais.
Greg Wise will play Ruskin, and Tom Sturridge will play Millais.
Thanks to Diario Twilight
Robert Pattinson was spotted walking his dog Bear in Los Angeles yesterday afternoon (July 19). Aww, I want to give Bear a kiss on the nose! So cute!


In this new video from PopSugarTV Tom Sturridge, Kristen Stewart's 'On The Road' co-star, referred to Kristen as an 'extraordinary actress.'
Thanks Kat!
As most of you know, Tom Sturridge is Robert Pattinson's best friend and Kristen Stewart's co–star in 'On The Road' (out February 2011). Now we have the trailer for Tom's upcoming indie love story 'Waiting For Forever.' Check it out:
AH, this looks soooooo sweet! Can't wait to see it.
Here is a new/old pic of Robert Pattinson with his best bud Tom Sturridge!
The other day we posted pics of Tom Sturridge and Kristen Stewart together in Montreal here, which had a lot of you wondering why he was with Kristen on the set of her movie 'On The Road.' It turns out that Tom is actually cast in the film! Here is what Gossip Cop reported:
Earlier this week, photos emerged of Kristen Stewart hanging out with Robert Pattinson's close pal Tom Sturridge in Montreal, where she's filming On The Road. The shots sparked speculation that Sturridge might also be in the Jack Kerouac adaptation.
Gossip Cop can confirm exclusively that Sturridge has indeed been cast in the movie."
"He is filming in Canada at the moment for On The Road," a rep for the actor tells us.
Kristen Stewart also stars alongside Garrett Hedlund and Sam Riley.
Robert Pattinson and Tom Sturridge (Rob's best pal) were out and about shopping for underwear in London yesterday. They got food and went to a music store as well. Look ladies, his beard is gone. Am I the only one who didn't mind the bead? I actually liked that he was just being lazy and comfortable. That's what makes him so unique. Oh well… he's all clean shaven now
P.S. I saw the pics of him inside the store – he's a boxer briefs guy
via Pattinsonlife
At around 2:59 Tom Sturridge talks about Robert Pattinson and how he considers him his 'best friend.'! Also, here is part 2 of the interview. I got really into this and listened to both parts as I blogged – he is really interesting. I could listen to someone with a British accent talk all day! I love it.

♥Thanks for emailing the link Rose!